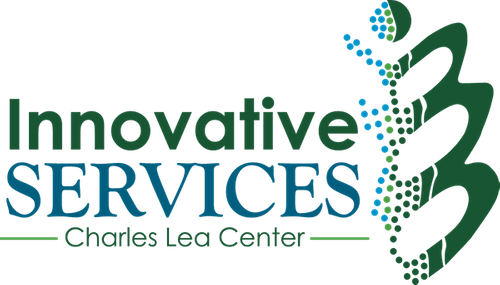 The Charles Lea Center has long been a leader in providing innovative solutions so the people supported can achieve their full potential and dreams. For more than 50 years we have taken pride in the fact that whatever the desire or wish, we worked together to find an answer. Using technology to help provide results for those supported has been a natural progression that started more than a decade ago.
TODAY, WITH ADVANCEMENTS MADE IN TECHNOLOGY, WE HAVE FOUND EVEN MORE WAYS THAT CAN LEAD TO AN ENHANCED QUALITY OF LIFE FOR THOSE SERVED. IT HAS BEEN AN EXCITING PROCESS THAT IS EVER-CHANGING AND EXPANDING.
WHAT IS TECHNOLOGY FIRST ?
To be Technology First, an organization/ agency must embrace technology as the first source of support when addressing outcomes in service planning.
Many people with intellectual and developmental disabilities (IDD) face challenges in everyday life from completing chores to working, attending classes, or enjoying their community.
Through technology many devices can help people overcome barriers and live a more integrated life… experiencing the things that they want. And it can be life changing. The integration of technology in an individual support plan (ISP) as part of person-centered planning is imperative. Providers and families must view technology as a natural part of the plan. In fact, the first question during an ISP meeting should be, "How can we incorporate technology to make life better, easier?" Sometimes the need is low tech, such as eating utensils that stabilize hand tremors or using a voice assistant to turn on lights or make phone calls. Other requests include living without 24-hour staffing or moving into an apartment.
The Charles Lea Center has established a unique methodology to incorporate technology into the lives of those who receive supports. It starts with the introduction of technology to staff, those served and their families. We have innovation specialists that help coordinate this education and then work with the individual and families, if needed, per the implementation.
Being Technology First is a total team approach. We have found that you cannot change an organization/agency's culture solely from the top down; it must include a generous balance of bottom up. Direct Support Professionals play a role equal to that of innovation specialists. It is not just the use of technology but also involves teaching those who receive services, and oftentimes their families, about the advantages of using technology.
The CLC employs innovation specialists who are constantly researching how we can better use technology. As we are person-centered, we let those supported guide us in what is needed. In our state-of-the-art Johnathan Dodd Life Skills and Technology Center we train individuals on how they can perform everyday tasks using technology in a safe controlled location.
The innovative services we provide refer to devices and technological methods used to increase independence so those served can live, work, and play more independently. There are two main categories of innovative services offered: assistive technology and remote supports. Regardless of the technology used, it never replaces the care and security received by people served at the Charles Lea Center.
We are proud of the fact that we are able to touch the lives of more than 1,500 individuals in Spartanburg County. And we're even prouder when get to watch them succeed and reach their goals.